○Huge Benefits of Integrated Service
You can maximize the advantages of Techno-Labo by entrusting us whole processes of making a shape of your product because an integrated workflow is more beneficial to manufacture small quantities of products.
Perhaps some people preferably leave each process to a specialized manufacturer to create great products. However, we assume reliable manufacturing and merchandising are more necessary in the case of low volume manufacturing. For this purpose, you need to keep balance among leading time, quality, and cost of your product.
Techno-Labo is offering a system that supports all processes of product development to enable commercialization and lead it to mass-production. Therefore, we can optimize the balance between delivery date, quality, and cost.
Benefits of understanding and arranging all processes:
・Shorten lead time by reducing many meetings with each contractor
・Propose appropriate quality by a deep understanding of product concept
・Reduce total cost by avoiding over-specifications, integrating each process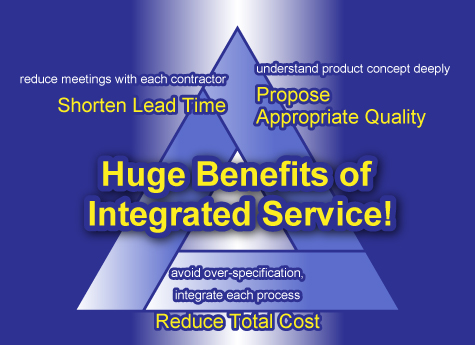 Our integrated service will save total cost by reducing duplicated costs, like design fee, prototyping fee, and product fee, by estimating all costs inclusively, unlike each company estimates the costs of their work.
Usually, when each contractor takes an order as a subcontractor, they tend to manufacture a product with over-specifications to avoid products returned as defectives from their customer. However, since Techno Lab participates in the project from a planning stage, we grasp the product concept and required qualifications for all processes. We can reduce costs by setting an optimum quality according to the use of products.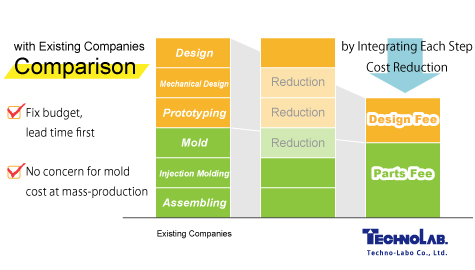 ○Leave Everything to Techno-Labo from Manufacturing to Arranging Commodities
Ordinarily, manufacturing plastic cases requires collaboration with different contractors: design firm, mechanical design firm, prototyping company, mold manufacture, injection molding factory, and assembling factory.
Furthermore, you may have problems to choose appropriate partners of various processes: quality control, procurement of resin material,
compounding, procurement of commodities, etc. For example, a required accuracy of dimension which is called tolerance may differ from each material. If there is no leader to manage your project, there will be inconsistencies among contractors of each process.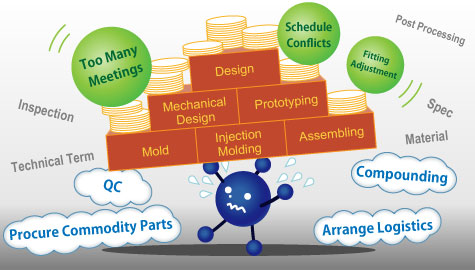 The more contractors involved, the more inconsistencies and unmanaged work increase.
Techno-Labo is doing everything integrally regarding operations, management, and arrangement to manufacture plastic cases. Even for commodity parts, we adjust fitting of assembling with actual products.
Also, our project manager supports the entire process of your project so that professionals in each process can concentrate on their work.

These systems are realizing steady workflow to make a shape of your product.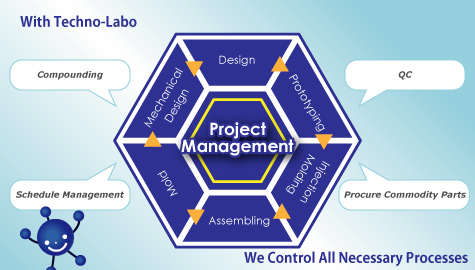 Techno-Labo's project manager is controlling every process.
○Techno-Labo's Advantages
■Design Knowhow to Propose Shape
Even if narrowed down to IoT devices alone, we can show you numerous developed products.
■System for Low Volume Manufacturing: Saleable Quality on Limited Budgets
Accumulated unique manufacturing skills through more than 14 years of research and development, Techno-Labo has realized low volume manufacturing for less than 500 units, which is difficult for 3D printers and CNC machining.